Posted by
PsiCop
in
Christianity
,
Metaphysics
,
Religion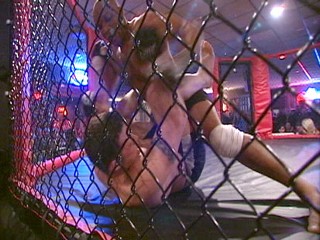 Some folks in Paducah, Kentucky have found a way to express their love for the Lord and to worship Jesus Christ. They're doing so, by … get this! … brawling. Mixed martial arts, to be exact. ABC News reports on this new kind of Christian worship (WebCite cached article):
On a late Friday night recently at the Pure Country Bar in Paducah, Ky., a brawl is about to break out. It's not a drunk fist fight — it's a team of "warriors for Christ" gearing up for a fight in the name of the Lord.

"Father, we just thank you for the opportunity to go out tonight and to train and compete," coach John Renken says. "Lord, we just pray that you protect our fighters, as well as the other guys. We pray that we will be a representation of you."

Renken, the leader of the group of unorthodox fighters, is also an evangelical pastor who brings a new meaning to the term "bible beater."

"I was fighting as a brand new Christian. I was fighting all the way through bible college…This is just a part of who I am," he says. "Look at what Jesus endured for our sake. He goes down the walk that is roughly about a mile long with the Roman soldiers beating him bloody. He faced his own cage in life."
It might sound unusual that the religion founded by "the Prince of Peace" (Is 9:6) could be expressed through brawling, but Renken is armed with his own rationale:
He says fighting has its roots in the Bible. "Jacob wrestles with God in Genesis…Exodus 15.3 [it] says that the Lord your God is a warrior. So, there is a part of God that I believe is a warrior, that is a master of battle," he says.
There is, of course, a chance that this isn't so much a mode of worship, but rather, a marketing gimmick:
Renken's ministry is one of a growing number of evangelical churches that have looked to mixed martial arts as way to appeal to men, who have largely been absent from traditional congregations.
Of course, in order to market himself, Renken is forced to purposely ignore a bunch of scripture passages — other than Ex 15:3, which he likes. Let's have a look at some of the things Jesus taught his own followers:
You have heard that it was said, "an eye for an eye, and a tooth for a tooth." But I say to you, do not resist an evil person; but whoever slaps you on your right cheek, turn the other to him also. If anyone wants to sue you and take your shirt, let him have your coat also. Whoever forces you to go one mile, go with him two. Give to him who asks of you, and do not turn away from him who wants to borrow from you. (Matthew 5:38-42)

But I say to you who hear, love your enemies, do good to those who hate you, bless those who curse you, pray for those who mistreat you. Whoever hits you on the cheek, offer him the other also; and whoever takes away your coat, do not withhold your shirt from him either. Give to everyone who asks of you, and whoever takes away what is yours, do not demand it back. (Luke 6:27-30)

And behold, one of those who were with Jesus reached and drew out his sword, and struck the slave of the high priest and cut off his ear. Then Jesus said to him, "Put your sword back into its place; for (D)all those who take up the sword shall perish by the sword. (Matthew 26:51-52)
I guess these brawlers for Jesus must have those passages — and others — stripped out of their Bibles.
Oh, and … worshiping Jesus in a bar? Seriously? Only rednecks could come up with that.
Hat tip: Skeptics & Heretics Forum on Delphi Forums.
Photo credit: ABC News.
Tags:
brawl
,
brawling
,
christian
,
Christianity
,
christians
,
jesus
,
jesus christ
,
john renken
,
mixed martial arts
,
mma
,
paducah KY
,
peace
,
pure country bar
,
war
,
warriors for christ
,
worship