Posted by
PsiCop
in
Islam
,
Metaphysics
,
Religion
,
World Politics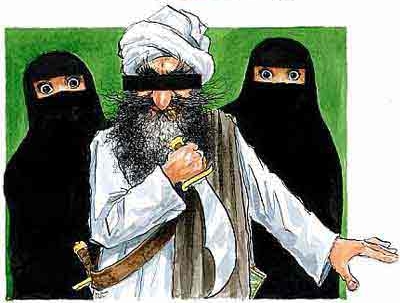 It's been over 5 years since the Danish newspaper Jyllands-Posten published some cartoons of Muhammad. But that doesn't appear to have been long enough for the world's Muslims to get over it. Agence France-Presse reports (via Google News) that a planned "imminent assault" on that paper's offices, by angry Muslims, was narrowly averted (WebCite cached article):
Scandinavian intelligence agencies on Wednesday said they had foiled a "Mumbai-style" plot by Islamic extremists to massacre staff at a Danish newspaper which published caricatures of the Prophet Mohammed.

Denmark's PET intelligence service said five suspects had been arrested, preventing an imminent assault on the Copenhagen offices of the Jyllands-Posten daily in which as many staff as possible would have been killed.

Four men were arrested in Denmark while a spokeswoman for Swedish intelligence agency Saepo said a fifth was arrested in Sweden in connection with the same international plot.

"It is our sense based on intelligence that this is a militant Islamic group with links to international terrorist networks," PET head Jakob Scharf told reporters.

They were planning an attack "within the next few days", the agency said in a statement.
I continue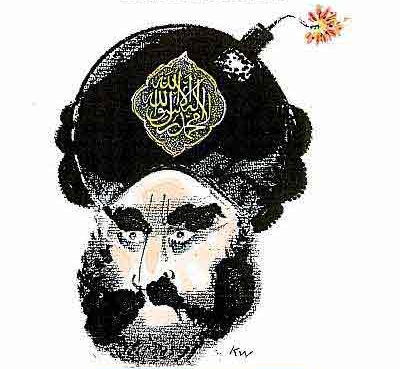 my policy of displaying a couple of these cartoons, each time Muslims call attention to them, thus proving they can't make the world forget about them by flying into rages over them. (Time for them to figure out the Streisand effect.)
Can there be any more doubt about how murderously childish religionists can be?
Photo credit (both): Assyrian International News Agency.
Tags:
cartoons
,
copenhagen
,
denmark
,
Islam
,
islamic terror
,
islamic terrorists
,
islamism
,
islamofascism
,
islamofascist
,
islamofascists
,
jyllands-posten
,
Jyllands-Posten cartoons
,
jyllands-posten muhammad cartoons controversy
,
muhammad
,
terror
,
terrorism
,
terrorist
,
terrorists