Posted by
PsiCop
in
Christianity
,
Fuzzy Thinking
,
General
,
Islam
,
Metaphysics
,
Religion
,
U.S. Politics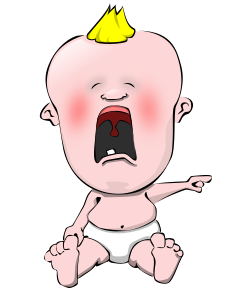 You've just gotta love Rightists who infest the federal government. They've spent the last few years raging, fuming, screaming, and whining about the horrors of Washington, yet hypocritically, they've built careers in that city, make their livings on it, and have taken up residence there. They shut down the federal government with the expectation that doing so would coerce the administration into canceling implementation of the Affordable Care Act, and then, hypocritically, they staged a protest of said shutdown, as CNN reports (WebCite cached article). During that protest, the ferociously angry Christofascist Larry Klayman called for a revolution and ordered President Obama to surrender to him:
One speaker went as far as saying the president was a Muslim and separately urged the crowd of hundreds to initiate a peaceful uprising.

"I call upon all of you to wage a second American nonviolent revolution, to use civil disobedience, and to demand that this president leave town, to get up, to put the Quran down, to get up off his knees, and to figuratively come out with his hands up," said Larry Klayman of Freedom Watch, a conservative political advocacy group.
The whiney crybaby Larry is repeating his call for a revolution, which I've blogged about already. The problem with his yammering isn't that he's expecting Obama to do something he's never going to do (i.e. resign). Of course juvenile Rightist cretins like Larry-boy are going to make demands of the president which he's never going to comply with. Of course he's going to caterwaul sanctimoniously about how awful it is that the insolent president — who was first elected in 2008 and re-elected in 2012 — has dared remain in office.
No, the problem is Larry-boy's implication that Obama is a Muslim. As I've blogged several times already, Obama is a Christian, and not a Muslim at all. He just isn't. Maybe crybaby Larry and his Christofascist pals disagree with that, but too bad for them, they don't have a vote in the matter. Obama is, in fact, a Christian. Multiple fact-checkers have explained this, but the Right more or less refuses to accept it.
(There's a reason for this refusal: Rightists insist those fact-checking sites are "biased" to the Left, are "in the tank" for Obama, and knowingly lie in order to help him. These Rightists don't know these sites have also called out Leftists — and Obama specifically — on their falsehoods, too. Their paranoid conviction that these sites are insidiously "biased" against them, of course, is a result of the hostile media effect, and is something that all ideologues fall prey to. As it turns out, the more fact-checkers explain these idiots' errors to them, the harder they dig their heels in against conceding they've been lying. Yes, it's a very childish game, but ideologues love to play it.)
Klayman's hypocrisy exists at several levels: As noted, he protested the shutdown of the federal government that his own ideology worked toward; he built his career on a federal government he despises; and he opposes what he calls "judicial activism," except when Rightists are doing it, in which case he cheers them on.
Like most Christians, little Larry hasn't read his Bible. If he had, he'd have known that his own Jesus clearly and explicitly forbid him ever to engage in hypocrisy of any kind:
You hypocrite, first take the log out of your own eye, and then you will see clearly to take the speck out of your brother's eye. (Mt 7:5)

Or how can you say to your brother, "Brother, let me take out the speck that is in your eye," when you yourself do not see the log that is in your own eye? You hypocrite, first take the log out of your own eye, and then you will see clearly to take out the speck that is in your brother's eye. (Lk 6:42)
As I said at the start of this post, you've just got to love these guys. They're so proud of their brazen hypocrisy, and so courageous in their refusal to accept any facts contrary to what they believe, they're trumpeting it to the heavens.
Photo credit: Darren Beck, via Open Clip Art Library.
Tags:
barack obama
,
christian right
,
freedom watch
,
gop
,
government shutdown
,
hypocrisy
,
hypocrisy in christianity
,
hypocrite
,
hypocrites
,
hypocritical
,
judicial watch
,
larry klayman
,
lk 6:42
,
luke 6:42
,
matthew 7:5
,
mt 7:5
,
muslimer
,
muslimers
,
obama is a muslim
,
president barack obama
,
president obama
,
religious right
,
republican
,
republicans
,
right
,
right wing
,
shutdown
,
shutdown protest