Posted by
PsiCop
in
American Religio-Politics
,
Christianity
,
Fuzzy Thinking
,
Religion
,
U.S. Politics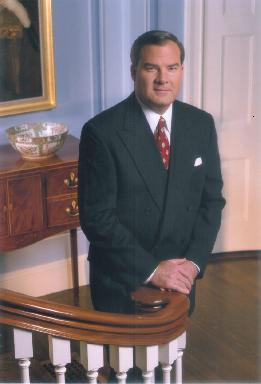 Note: Some things have happened with the Gov since I posted this. See below for more information.
Unless you happen to live in or near Connecticut, you probably don't know about our former governor John G. Rowland. He was dogged by corruption allegations for a couple of years in the early '00s; in 2004 he finally resigned, and despite having spent months insisting he did nothing wrong, pled guilty to a federal felony corruption charge. He served his time and has been out of prison for a few years, mostly trying to make a name for himself as a motivational speaker. Yes, that's right, a corrupt former politician actually thinks he knows how you should live your life!
The newspaper in his hometown (Waterbury CT), the Republican-American, has never really gotten over Rowland's shameful departure from office. Every once in a while they try to rewrite history and make it seem that a man who admitted — in court — to having been corrupt, was actually railroaded out of office by false allegations and the vicious, fictional reporting of rival newspaper the Hartford Courant. Their latest effort at doing so is this Rep-Am article in which they make Rowland seem like he's ready to take vows or something (WebCite cached article):
He is, after all, John G. Rowland, whose spectacular rise as governor of Connecticut was followed by an even more spectacular fall. And he is — and eager to tell you so — in the midst of his own revival; a renewal of faith that began with a handwritten fax to the governor's office, that saw him through his darkest days in prison and on one recent Sunday led him to clap his hands to a rousing gospel song at a church service which resembled, not altogether coincidentally, a revival. …

"John Rowland today is not the same guy he was in 2003," says the Rev. Will Marotti, pastor of New Life Church. "He's very much in tune with his weakness, more sensitive and more humble."

New Life Church isn't the same church, either. As Rowland grew in his faith, Marotti's congregation grew from a few people meeting in his living room to the hundreds packing the Oakdale venue and companion site on Bee Street in Meriden.

Rowland's spiritual journey began before his famous troubles. In March 2003, New Life Church planned a Sunday rally for the troops in Afghanistan. On a whim, a hunch or, he'll say, something greater, Marotti faxed a handwritten note about the event to the governor's office.

Rowland never attended events on Sunday, which he considered a family day. But, on a whim, a hunch or, he'll say, something greater, he decided to go.
But, as Rowland's media nemesis Colin McEnroe (a talk-radio host on WTIC-AM during Rowland's term) points out, this little scenario might not be true. The Rev. Marotti was much more connected to Rowland — the politician — prior to his corruption crisis, than is conveyed by this Rep-Am article. Here's Colin's observation (cached version):
But it's worth nothing that, back in those bad old days, Marotti was already a theo-political operative for Rowland. He had been appointed by the governor to a council overseeing "faith-based" uses of government funds in the fall of 2003, and he repaid that kindness by going on the warpath for Rowland in the heat of the crisis [locally cached]. Marotti openly pressured the media (including me) to lay off Rowland and pressured the legislature to hold off on impeaching him.
What we have here, folks, is another version of a phenomenon I've noticed being used elsewhere in Connecticut … which is for public people to visibly espouse religiosity in order to evade criticism or increase their appeal. I suspect that Rowland, who's currently Waterbury's economic development director, is angling for some other, more-public job. He might be considering another run for office somewhere, or maybe something else: There are rumors he may become a talk-radio host on the same WTIC-AM which had once been home to McEnroe (locally cached version). At any rate, I don't buy this "spiritual transformation" crap, not from a guy like Rowland anyway. You don't spend close to 10 years in high office, contriving ways to profit personally — and illegally — from it, then suddenly decide to "get right with God." Nope, I don't believe it. If you live in Connecticut or anywhere that Rowland might someday go to, you shouldn't, either.
Unfortunately, this tactic frequently works in the United States, because the country's religious majority is too credulous about such claims. I have no doubt that Rowland and the Rep-Am's rewrite of his history will work.
P.S. The reason there's a talk-radio vacancy at WTIC is because late-morning host Jim Vicevich … a sanctimonious, hyperreligious whiner I blogged about once before … was let go a week or two ago. Gosh, I can't tell you how broken up I am over that. (Not!)
Update: Rowland did, in fact, get his afternoon drive-time radio show on WTIC-AM a few months after I first posted this. He has, however, lost that show (cached), due to an indictment for election-finance shenanigans (cached). At that time, I blogged about the spectacular failure of his claimed religiosity. Not that any of his "true believer" minions admit that he could possibly have done anything wrong (not recently, and not back in the early 00s). So the lesson is lost on them.
Hat tip: Colin McEnroe "To Wit"
Photo Credit: Notable Names Database.
Tags:
colin mcenroe
,
connecticut
,
corrupt
,
corruption
,
deflect
,
deflection
,
governor of connecticut
,
john g rowland
,
john rowland
,
new life church
,
religiosity
,
rev will marotti
,
revival
,
waterbury
,
waterbury CT
,
will marotti