Posted by
PsiCop
in
Islam
,
Religion
,
World Politics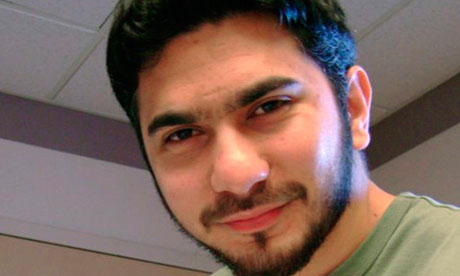 A frequently-unnoticed — by the mass media — issue behind terror attacks is their motivation. Specifically, the mass media tend not to review it too closely. This failure leads people to assume that terrorists are driven by some kind of repression: sometimes political, sometimes socio-economic, sometimes both. A common version of this assumption is that Islamic terrorism is driven by the Palestinian conflict, and a result of Israel's repression of Muslims. As I've mentioned before, the facts show that this is simply not true. And the other day a mass media outlet weighed in on this, in conjunction with the recent failed Times Square bombing attempt. The New York Times Lede blog reports (WebCite cached article):
On Wednesday a Reuters wire report [cached] on the background of Faisal Shahzad, the suspect in the Times Square bomb case [cached], called him "educated and well-heeled." That fact is stated as if it is something of a surprise that this young professional, a full-fledged citizen of Western society, might have attempted a terrorist attack. But haven't educated sons of privilege been behind almost every recent terror attack on the West? …

Less than five months ago, similar questions were being asked about Umar Farouk Abdulmutallab, who left a live of relative ease in Nigeria and London for Yemen, before trying to blow up a jet over Detroit on Christmas Day.
The Lede blog entry offers a list of other sons of privilege who engaged in terror attacks. An examination of most of these occidental attacks reveals that these young men have almost nothing in common; they are from different countries, different ethnicities, have different native languages, etc. The one thing they do have in common are their age (they're all relatively young), gender (i.e. male), and religion (they're all Sunni Muslims).
Hmm.
I wonder what all of that might mean. Ideas, anyone?
P.S. Mosque leaders in the New York City metro and Fairfield county areas have, to date, denied that the Times Square suspect has been involved in any of their congregations, and claim that they do not know Shahzad. That may or may not be true; they certainly have every reason to wish to denounce and disavow him, regardless of whether or not any of them have ever met him. But even if it is — and Shahzad did not attend mosque regularly or at all — it does not mean he was not religious. It is possible to be a "religious 'solitary'" or to practice a religion alone or in a family group, without being involved in any organization.
Photo credit: The (UK) Guardian.
Tags:
failed attack
,
failed bombing
,
Islam
,
muslim
,
muslims
,
new york city
,
new york NY
,
Religion
,
religionism
,
religionist
,
religionists
,
represssion
,
terror
,
terror attack
,
terror attacks
,
terrorism
,
terrorist
,
times square
,
times square bombing