Posted by
PsiCop
in
American Religio-Politics
,
Christianity
,
Fuzzy Thinking
,
General
,
Metaphysics
,
Religion
,
Separation of church and state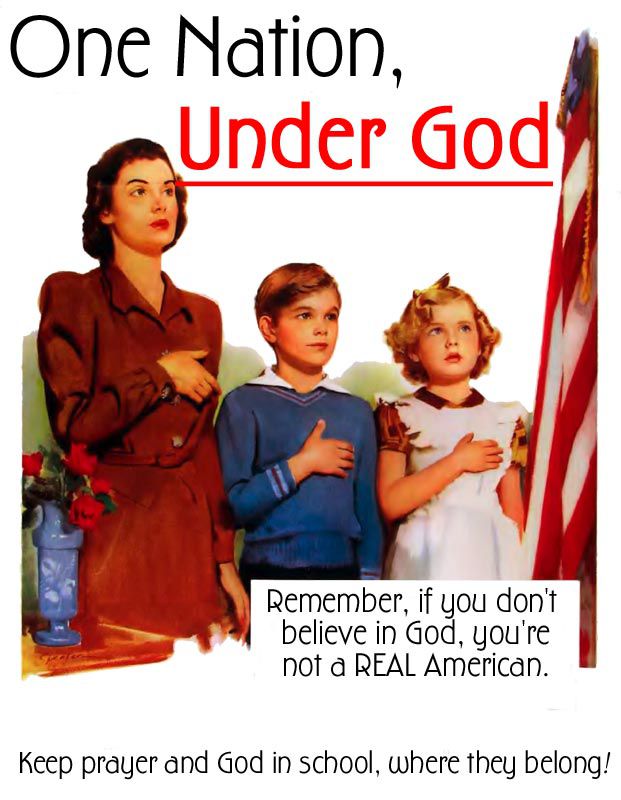 Religionists love to look for easy targets to indoctrinate and/or convert. One group of people they've traditionally gone after, is your basic captive audience: School children. Toward that end, a bipartisan cadre of religionist lawmakers in Florida have cooked up yet another bill that — if it became law — would put prayer into public schools in Florida, and end up forcing public school kids to pray, whether or not they or their parents wish it. The Miami Herald reports on this militant Christianist effort (WebCite cached article):
A bill that would allow voluntary, student-led prayer in secondary schools sailed through the Senate Judiciary Committee on Thursday – but not before meeting resistance from Anti-Defamation League officials, who called the bill "unnecessary, divisive and unconstitutional."

Said sponsor Sen. Gary Siplin, D-Orlando: "All I'm trying to do is allow those School Boards and those students who want to partake in this type of activity [the opportunity] to do that."
Siplin and the bill's other sponsors have fallen for the myth that it's currently impossible for anyone to pray in public schools. At the moment, anyone — students, faculty, employees, visitors, etc. — in any public school in the country can, in fact, pray any time s/he wants to. It is not illegal to do so, and there's no need for any law to be passed to enable it. I expect a lot of praying goes on in schools all over the country … especially around exam time.
What's not permitted is when school staff lead students in prayer. This was established by the US Supreme Court in a number of decisions, most especially Engel v. Vitale (1962) and Abington School Dist. v. Schempp (1963), among others. This means that FL Senate Bill 98 and House Bill 317 would be unconstitutional, even if they were to become law. The Herald even points this out by citing a related precedent:
Passing the legislation may not be that easy. In 2009, a federal court struck down school prayer in Santa Rosa County in northwest Florida.
The law seems to have been written with a wink and a nod in the direction of trying to skirt Constitutional limitations:
Student volunteers would have to lead the prayers or benedictions, and school personnel would not be permitted to partake.
This is transparent, however; if the principal were to stick a child in front of an assembly or a microphone, s/he would effectively be directing the prayer. Using the child as an agent would, moreover, be cowardly in the extreme.
Also, the maneuver of merely "enabling" school boards to lead students in prayer, rather than directing them to do so, is likewise transparent. If you think for a moment that a lot of Florida's schools won't leap at the chance to ram religion down the throats of kids, you're sorely mistaken; I already blogged about the godly folk in Cross City FL who've stated they were willing to defy court orders to remove a Decalogue idol from their courthouse steps.
The article ended with this precious little tidbit:
"God bless y'all," [Siplin] told senators after the vote. "I'm praying for you."
I hope Siplin realizes that, in saying this, he violated Jesus' explicit and unmistakable command never to engage in public piety (see Matthew 6:1-6 among other gospel passages). These militant Christianists really need to stop disobeying their own Jesus.
But of course, we all know damned well they won't!
Hat tip: Friendly Atheist.
Photo credit: Austin Cline/About Atheism.
Tags:
christian
,
christianism
,
christianists
,
Christianity
,
christians
,
christofascism
,
christofascist
,
christofascists
,
constitutionality
,
florida
,
gary siplin
,
house bill 317
,
orlando
,
orlando FL
,
piety
,
prayer
,
public piety
,
public prayer
,
public school
,
public school prayer
,
religionism
,
religionist
,
religionists
,
school prayer
,
schools
,
senate bill 98
,
tallahasee FL
,
tallahassee