Posted by
PsiCop
in
Christianity
,
Fuzzy Thinking
,
General
,
Metaphysics
,
Religion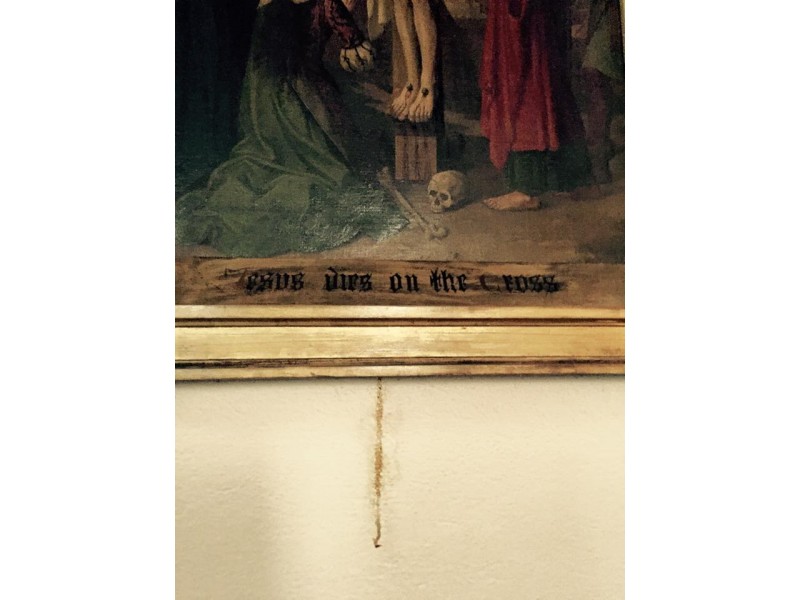 Yet another miracle has the Ocean State all agog. This time it's inside a church in Newport. The Providence Journal, among a number of media outlets, reports uncritically on a stain on the wall beneath a painting of the crucified Jesus (WebCite cached article):
For years, parishioners of St. John the Evangelist Church didn't say much about the rust-colored stain running beneath the 12th Station of the Cross painting of Jesus.

Some never noticed it.

Others, without knowing what was causing the mark, didn't want the 140-year-old Episcopal church to become a roadside curiosity or tabloid headline.

But this spring the church has turned a spotlight on the odd little stain, which in the right light appears to have trickled like blood directly from a painting of Jesus' crucified feet onto the plaster of the church wall.

On Sunday, the Rev. Nathan J.A. Humphrey's sermon addressed the "mysterious red mark," suggesting that, whether of earthly or divine origins, it was evidence of Jesus' presence in the church.
So this thing's been there for no-one-knows-how-long, but suddenly — because the church's minister mentioned it in a sermon — it became news? Why? I have no idea. I guess Rhode Island must have had a slow news day or something.
For the record, it looks to me as though it's a rust stain from plumbing in the wall behind the painting or from the frame itself. Parishioners shouldn't have to keep cleaning it up; instead, they should take down the painting, fix whatever causes this stain, clean the stain that's already there, and paint over it. But why do I doubt they'll do that, when this is attracting interest in their church?
The idea that the Almighty has nothing better to do with his/her/its time than plant a rust streak in the wall beneath this painting, is just flat-out fucking ridiculous. I mean, seriously. S/he/it has an entire universe to run, fercryinoutloud. It's arrogance of the highest order for this Newport church to presume to have this much of the Almighty's attention. Besides, there are a lot better ways for the Christian God to make himself evident to people, than this, if s/he/it actually wished to make him/her/itself evident.
Photo credit: Newport Patch.
Tags:
christian
,
Christianity
,
christians
,
divine intervention
,
jesus
,
jesus christ
,
miracle
,
newport
,
newport RI
,
painting
,
Religion
,
religious
,
rhode island
,
sign from god
,
st john the cvangelist church
,
stain
,
wall stain